I felt bad neglecting the blog after only starting it up, now that I am halfway through my finals I wanted to update, so I was wracking my brains to think of what I would blog about next. I hit upon it today, as the summer is fast approaching and I'm in the midst of getting my summer wardrobe sorted I thought I'd share some of the films I consistently turn to for inspiration in the summer.
First up is Bernardo Bertolucci's
Stealing Beauty
.
Liv Tyler stars in this sensual 1996 classic as the nineteen year old heroine Lucy Harmon. Lucy travels to Tuscany, after the suicide of her mother, to have her portrait painted by a family friend of her mother. This is not the sole reason for her decision to spend the summer there. She hopes to renew her acquaintance with an Italian boy she met on her last visit five years previously. She also has a mystery to solve - who is her real father?
This is your quintessential coming of age story, but the seductive Tuscan setting, colourful characters (Rachel Weisz, Jeremy Irons and Sinead Cusack are some of the supporting cast) and soundtrack, a compulsive blend of nineties and classics from the likes of Billie Holiday, all combine to create a tale of sexual awakening you'll find hard to shake off, long after the summer sun has set.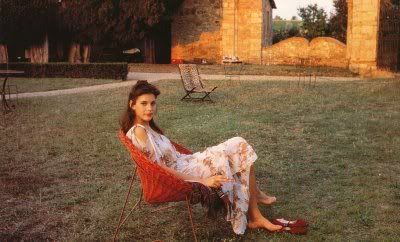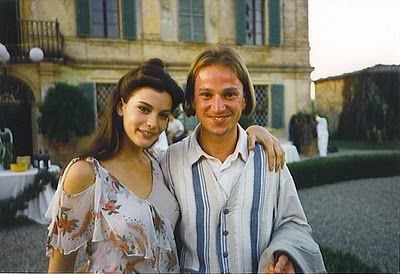 Lucy's wardrobe is somewhat typical of the decade - blue rinse jeans, fitted tank tops, plaid shirts, but her grungy floral sundresses, loose white shirts, romantic summer dresses and natural beauty are timeless essentials for your dream summer of love. As the film's tagline says "The most beautiful place to be is in love", although few of us can claim to falling in love with an Italian boy in Tuscany, whether it be in the urban jungle or some country backwater, to be in love in the summertime will open your eyes to the beauty of your surroundings. Having a perfect wardrobe in case such a situation would arise is handy!
The soundtrack is one of the best film soundtrack compilations I've ever heard and most of the songs are a steady feature on any of my summer ipod playlists.
Portishead - Glory Box
Hole - Olympia/Rock Star
Liz Phair - Rocket Boy
I apologize for the excess of youtube videos, but I hope this will encourage you to watch it and fall in love as I did. I picked this dvd off the back of a shelf when I worked in Xtravision (Blockbuster) in 2007, a few short weeks after I had returned from a holiday in Italy and this love song to the Tuscan countryside had me yearning to return. It still has that power.
There you are now. Embrace an open spirit, gather some flowers, throw a couple of summer dresses in your suitcase and be on your way! Do let me know how you get on!
Before I forget -
This candid just perfectly captures Liv's infectious mischievous spirit in her role. And that summer dress. Lovely!