I know a lot of bloggers are anxious for July 25th, the premiere of season four of
Mad Men
. It's annoying being stuck in between series, I'm used to watching a series right through instead of tapping my fingers waiting week by week. I don't think I could get into another series, what are you guys watching? I'm watching
True Blood
week by week.
Anyway, whilst impatiently awaiting the return of
Mad Men
, I've had to amuse myself in some ways, so jib jab provided some amusement. G'wan have a laugh at my expense!
Personalize funny videos and birthday
eCards
at JibJab!
And of course after spending hours reading
Tom & Lorenzo's costume analysis'
of the shows, I had to style myself as a Mad Woman/Minx?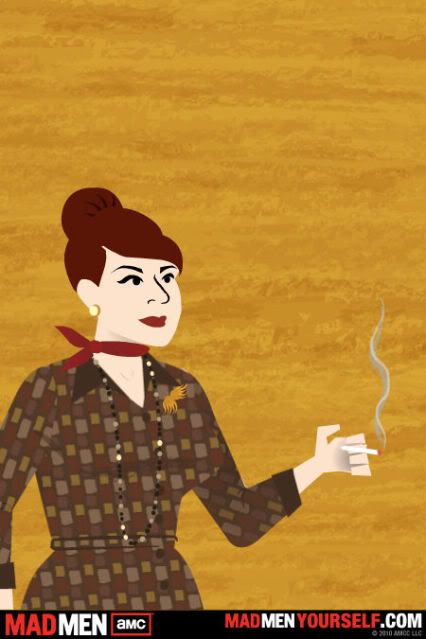 Lastly, this promo poster makes me all giddy and excited.
First impressions - there's definite change of tone in Betty's wardrobe, she's no longer the naive housewife in 50s day dresses, but more assertive, more progressive in her fashion tastes. As for Peggy - woah! That 1950s catholic schoolgirl wardrobe and attitude is certainly dead and gone!
PS. Also - isn't Peggy's hair getting big? It says a lot about her new status and the bigger her hair gets, the more ambitious she's becoming. And that well cut suit, not a peter pan collar or ridiculous bow in sight! She's becoming more masculinized and one of the boys. Go Peggy!